Table Tennis Rackets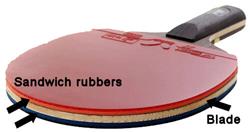 Before the competition begins, ITTF checks whether a player's racket conform to ITTF regulations and requirements. As you can see in the video, each racket is being checked by careful measurements.
The rackets once checked are then sealed and kept by the ITTF. These would be handed over to the players before commencement of their actual matches.
This informative video stated the standards required by the ITTF.

***YouTube Video***YouTube Video***YouTube Video***
ITTF Racket Control


Table Tennis Balls
Each Table Tennis ball should weigh 2.7gms with a diameter of 40mm.
When dropped from a height of 12 inches (30.5cm) onto a standard steel block the ball shall bounce up 9.4 to 10.2 in (24-26cm).
The new balls adopted in 2015 are now made of plastic polymer instead of celluloid. These are marked 40+. Celluloid balls are marked 40 without the +.
The balls are coloured white or orange. White balls are used for tournaments.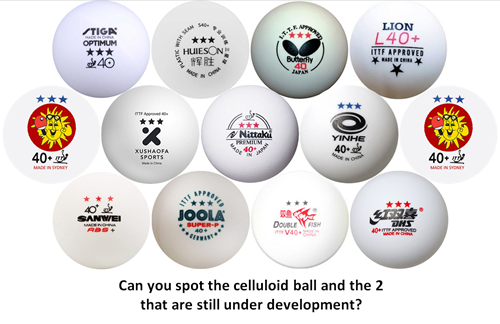 Quality of Balls
Balls rated 1 or 2 stars are for training purposes. 3 star balls are the highest quality and used
for competitions and tournaments. However the star rating system is not standard across
manufacturers. Therefore only 3 stars rated and ITTF Approved balls are used for tournaments.

***YouTube Video***YouTube Video***YouTube Video***
Choosing a Table Tennis Ball

***YouTube Video***YouTube Video***YouTube Video***
Plastic and Celluloid Table Tennis Balls Compared

***YouTube Video***YouTube Video***YouTube Video***
How Table Tennis Balls are made

***YouTube Video***YouTube Video***YouTube Video***
The Making of Table Tennis Blades and Rubbers